The Flying Winemaker Pinot Grigio 2021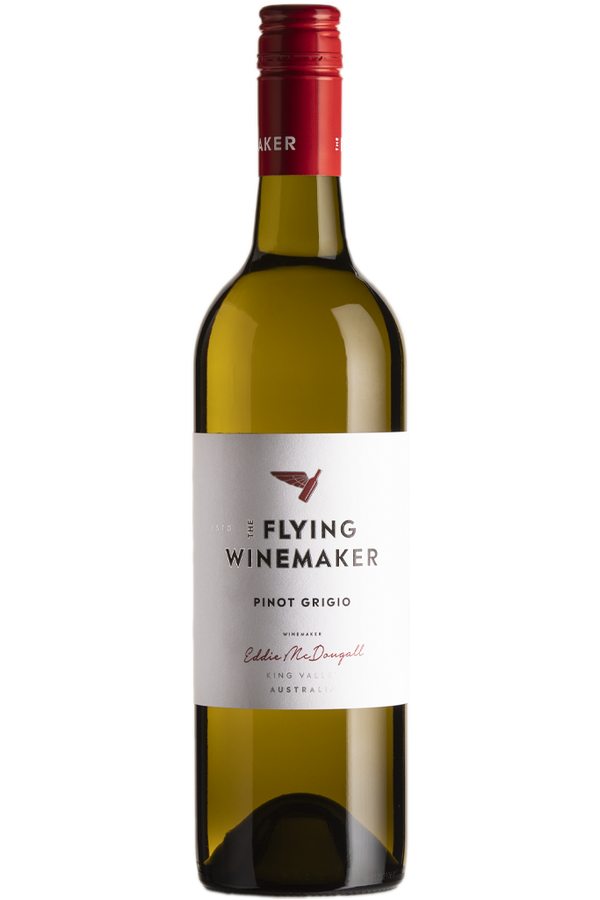 TASTING NOTES:
Aromas of white peach, pears, and crushed almond meal. Crisp, refreshing and driven with a citrus acid line on the palate. It's nicely balanced with a waxy viscosity and sprinkle of sea salt minerality.
REVIEWS:
91 Points | "A pale lemon-yellow colour. Pear skin, puff pastry and lemon balm aromatics. Good concentration of pear fruits with a layer of mountain herbs underneath. It has a pleasing oiliness to its texture that is contrasted with a bright green apple acidity. Good length and supple flow to the finish. Easy to enjoy" - Stuart Knox, The Real Review
90 Points | ''The winemaker catches the King Valley grigio style very well, pursuing a brisk, cool-climate line and length fleshed delicately in green apple, honeysuckle, hay and clean herbals. Provides both a soft mid-palate texture and brisk acidic finish" - Jeni Port, Halliday's Wine Companion
WINEMAKER'S NOTES:
"Making Pinot Grigio in Australia is never an easy task as the country's climate is warm and dry, which means the wine can become rich and ripe. Preserving the natural freshness without the introduction of additives is only achievable from the careful selection of vineyard sites. Our vineyard is located at a high altitude and in a very cool area of the King Valley. Made true to its Italian heritage, the wine is crispy, crunchy, bright, and refreshing. After each sip you'll want another one because it's not clumsy - it's balanced and clean. Our key to the success of this range is simplicity and honesty. We're not trying to reinvent the wheel, we're sticking with what works to make this wine taste awesome." 

- Eddie McDougall
WINEMAKING & PRODUCTION:
Harvested in the cool periods of sunrise, our Pinot Grigio is designed to capture the essence of freshness. The fruit is carefully handled to ensure the perfect extraction of texture, flavour and aromas. Pressed and fermented at low temperatures, this wine is given every opportunity to retain its purity and expression of place.
ABOUT THIS RANGE:
Winemaking without borders while ultimately aiming to express the honest flavours of individual grape varietals. Each wine produced under this range is a benchmark example of grape, place, and maker.
With an ambitious and pioneering spirit, we thrive on discovering and expressing the finest terroir — getting the best from every grape with minimal intervention. The results are exceptional wines, crafted with passion and precision so you too can experience the journey, one sip at a time!