The Flying Winemaker Prosecco NV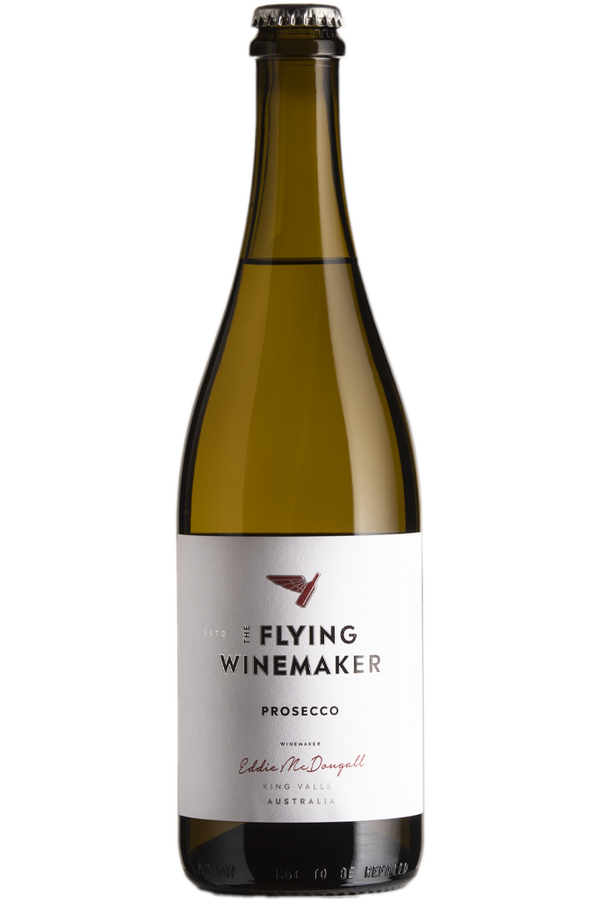 TASTING NOTES:
Aromas of white flowers, pears and white peaches. A very approachable and gentle expression on the palate. Wonderfully refreshing with balanced flavours of pure orchard fruits and a mineral undertone. Pair with cured meats or smoked salmon.
WINEMAKER'S NOTES:
"Most winemakers of Prosecco are hung up on balancing levels of sugar and acidity, whereas I believe the focus of making a stellar Prosecco should be on the carbonation. The carbonation of wine significantly affects the delivery of its complex flavours - so you see, getting the bubbles right means everything! When making my Prosecco, I don't focus on the sugar levels - I actually leave a bit of sugar in there as anything too dry will feel harsh, instead, I strive for a soft mousse to provide a soothing and pleasant drinking experience."

- Eddie McDougall
WINEMAKING & PRODUCTION:
Produced from vines planted in Australia's high country, this wine is produced with every intention of rivalling those of its Italian origin. Made under the classic Charmat method, this expression of Prosecco carries a soft mousse that is incredibly expansive of flavour, which softly pops.`
ABOUT THIS RANGE:
Winemaking without borders while ultimately aiming to express the honest flavours of individual grape varietals. Each wine produced under this range is a benchmark example of grape, place, and maker.
With an ambitious and pioneering spirit, we thrive on discovering and expressing the finest terroir — getting the best from every grape with minimal intervention. The results are exceptional wines, crafted with passion and precision so you too can experience the journey, one sip at a time!